Hair Style Advice for Petite Girls: How to Look Taller and More Fashionable
If you're a petite girl, you know that finding clothes and hairstyles that fit well and flatter your figure can be a challenge. And if you want to look taller and more fashionable, it can seem like an impossible task. But don't worry – we've got some great hairstyle advice for petite girls that will help you look your best. So, whether you're looking for a new everyday style or something special for a special occasion, we've got the perfect style for you. So, read on and find out how to make the most of your assets with our tips on the best hairstyles for petite girls.
Haircuts that make petite girls look taller
If you're a petite girl, you might think that you can't rock certain hairstyles because they'll make you look even shorter. But that's not true! There are plenty of ways to style your hair to make you look taller and more fashion-forward.
One great way to add height is by wearing your hair in a high ponytail. This will not only give the illusion of length, but it will also make your neck look longer. If you have bangs, sweep them to the side or pin them back for an even taller look.
Another style that looks great on petite girls is the bob. This haircut hits right at the chin and creates a slimming effect. You can wear your bob straight or add some waves for a more dramatic look.
Try a half-up, half-down style if you want to go for an updo. This will show off your neck and make you look taller. You can also try a low bun or chignon. These hairstyles are great for special occasions or when you want to feel extra glamorous.
So, don't let your height hold you back from trying new hairstyles! With a little bit of creativity, you can rock any look you want.
Hair tips for short height girls
Short girls, don't be disheartened! You can still rock amazing hairstyles even if you're petite. Here are some tips to help you look taller and feel more confident with your hair.
Choose the right hairstyle
A lot of times, short girls tend to go for very drastic and trendy hairstyles in an attempt to look taller. However, this often has the opposite effect and makes them look shorter. So instead, opt for a more classic style that will framing your face nicely and accentuate your best features. Some good options include a bob or pixie cut.
Add some height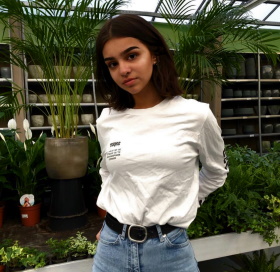 Try adding some soft curls or waves to your hair if you want to add a little extra height. This will give the illusion of added height and make you look more proportional.
Don't be afraid of color
Short girls sometimes feel like they need to stick to more subdued colors, but that doesn't have to be the case. Bright and bold colors can be flattering, so don't be afraid to experiment a little.
Use hair accessories
Accessories are a great way to add interest to your hairstyle and help you stand out from the crowd. Try using headbands, barrettes, or pins in exciting ways to add personality to your look.
Get a good haircut
It is key for any woman, but it's especially important for short girls. Talk to your stylist about what styles will work best for your face shape and hair type. Don't be afraid to ask for suggestions or samples of haircuts that you can take home with you.