Hairstyles for Long Curly Hair That Will Transform Your Look
If you have long curly hair, you know that it can be a blessing and a curse. While the natural wave and bounce can be beautiful, it can also be difficult to style and manage. Luckily, plenty of hairstyles for long curly hair will help you transform your look. These styles will make your curls work for you, from sleek braids to elegant up-dos. So, don't shy away from those natural waves – try out one of these styles today!
Must-try hairstyles for long curly hair
The Top Knot
One of the most popular hairstyles for long curly hair is the top knot. This style is easy to do, and can be worn casually or dressy. Gather your hair into a high ponytail and twist it into a bun. Secure with bobby pins, and you're done!
The Messy Bun
The messy bun is a great hairstyle for curly hair. If you don't have time to do your hair or if you want to keep it out of your face, this is a good option. To make a messy bun, gather all of your hair into a low ponytail and twist it into a bun. Don't worry about making it too perfect – the messier, the better!
The Side Braid
Looking for a hairstyle that's both fashionable and functional? Try a side braid! This style is great for keeping your hair out of your face while also adding interest to your look. To create a side braid, start by French braiding your hair along one side of your head. Once you reach the end of your hair, secure the braid with an elastic, and you're done!
Ways to take care of long curly hair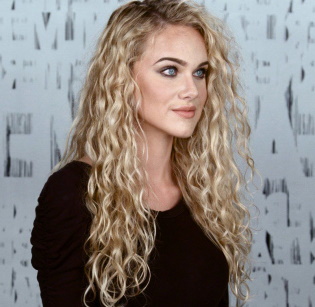 Use a wide-toothed comb: When you have long curly hair, it is important to use a wide-toothed comb when you brush your hair. This will help to avoid breakage and will also help to keep your curls looking their best.
Use a leave-in conditioner: A leave-in conditioner can be a great way to help keep your long curly hair healthy and hydrated. Be sure to apply the conditioner evenly throughout your hair, and then allow it to sit for a few minutes before rinsing it out.
Use a deep conditioning treatment: Deep conditioning treatments are especially important for long curly hair because they can help restore moisture and nourish your hair. Be sure to use a deep conditioning treatment at least once a week and more often if needed.
Avoid harsh chemicals: Harsh chemicals, such as those found in hair dye and products with high levels of sulfates, can be very damaging to long curly hair. If you must use a chemical-based product, be sure to use it sparingly and follow up with a deep conditioning treatment.